Ethics Advisory Board
The National Real Estate Ethics Day® Advisory Board will work to ensure that all aspects of the event support professional business practices. The Board will provide support and advice to participants, assist in the development of the NREED activities, and identify best practices. Board members will serve as ambassadors to the event, participating in an ongoing exchange of information to all REALTORS® involved.
Amanda Creel
Amanda Creel, RCE, e-PRO is the Chief Executive Officer of the Birmingham Association of REALTORS®. Amanda found her passion for all things REALTOR® as the Communications Director at the Emerald Coast Association of REALTORS® in Fort Walton Beach, Florida, before taking her first position as an association executive at the Shoals Area Association of REALTORS® in Florence, Alabama.
For the last four years, Creel has served as the CEO of the Prescott Area Association of REALTORS® (PAAR) and its MLS in Prescott, Arizona. During her time in Prescott, PAAR received national recognition for partnerships with local and state Women's Council of REALTORS® networks, joined with other associations and leadership professionals to create a regional REALTOR® leadership development program, implemented a variety of real estate technology solutions benefiting REALTORS® and consumers and overhauled its governance structure.
Creel is on the advisory boards for realtor.com, National Real Estate Ethics Day, and the MMSI Association Management System (AMS). Creel has a long history of leading by example when advocating on behalf of private property owners and the real estate industry. She is also a REALTOR® Party (RPAC) Golden R, President's Circle Major Investor. 
Creel is an Alabama native who received her bachelor's degree in journalism from Auburn University. She is married to Justin Creel and is the proud mother of two boys, Avery, 16, and Sawyer, 13.
Mark Epstein
Mark is the Chief Executive Officer of the Citrus Valley Association of REALTORS® – Glendora, California He began his venture into the field of Association Management in September of 2002.
Mark was also 2012 Chairman of the National Association of REALTORS® Association Executive Young Professionals Network and a past member of the National Association of REALTORS® Young Professionals Network Sub-Committee, the National Association of REALTORS® Association Executive Committee, and served as an advisor to the California Association of REALTORS® Young Professionals Network. He is currently serving on the National Association of REALTORS® Recommendations and Recognition Advisory Board and the California Association of REALTORS® Communications Advisory. He is passionate about the REALTOR® Party (RPAC) and has been a major investor since 2007.  Mark loves technology and stays up to date on ways to use it for his association and members.
Mark has been married since 2014 to his wife Ruth and have one daughter Sarah Grace.
In addition to his Association work he also serves as the treasurer of Life Center Church (CA)
Eric Kistner
A graduate of the King University with a degree in Economics and Political Science, Eric Kistner is the Managing Broker of a real estate firm in Johnson City, Tennessee. As a licensed broker, contractor and auctioneer, he has a unique perspective of the real estate market.
He was the 2017 President of the Northeast Tennessee Real Estate Association of REALTORS®, a graduate of the 2018 NAR Leadership Academy, 2018 NETAR REALTOR® OF THE YEAR,
a John Maxwell Certified Business and Public Speaking Coach, a Leigh Brown Certified Business Coach and Speaker, and a Certified Distance Education Instructor.
Eric and his wife, Dr. Heather Kistner, enjoy spending time with their son Cash.
Carol C. Seal
Carol began her career in REALTOR® association management in 2002 with the Memphis Area Association of REALTORS® where was the Industry Practices & Procedures Director. In November 2012, Carol became the CEO for Greater Chattanooga REALTORS®. She believes in the importance of the REALTOR® Party and is a Major Investor (Golden R, Presidents Circle) in RPAC.  Carol holds the REALTOR® Certified Executive designation and is an NAR trained mediator and certified professional standards administrator. In her 15+ years in association management, Carol has served on many NAR committees and work groups. Following are only a few:
2018-2020 AE Committee Representative to NAR's Professional Standards Interpretations and Procedures Advisory Board
2018-2020 AE Committee Representative to the NAR's Professional Standards Committee
2015 Chair, Association Executives Institute
2011 Member, AEC Ethics Training Resources Work Group
2006 Member, Professional Standards Committee
Stephanie White
Stephanie White, ABR, CRB, CRS, RCE, CMLX1, is the CEO of the Mobile Area Association of Realtors.  She moved to Mobile after spending 5 years as Education Director and CEO and in the Florida panhandle area.  She started her real estate career in Tallahassee and moved to Jacksonville and St. Augustine in 2004.  She has worn most hats, including Broker/owner and Instructor.  Stephanie's passion for Professional Standards started in her first year in Real Estate in 1995, after a commission dispute taught her the importance of understanding the process and abiding by timelines.  She served as the Chair at NEFAR for several years, where she oversaw dozens of Ethics and Arbitration Hearings.  She continues to teach Ethics, using real world case studies and experience.
Stephanie has been married since 1995 and has two teenagers, 3 cats and a rabbit!
Become a Title Sponsor of National Real Estate Ethics Day®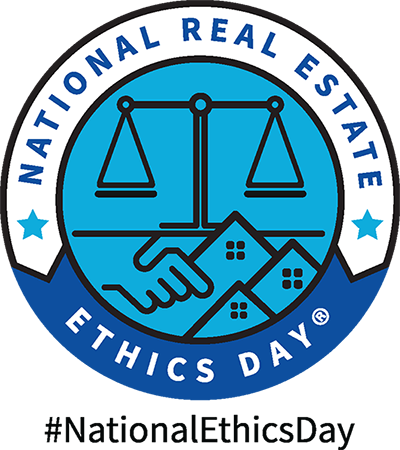 Serve on the National Real Estate Ethics Day® Ethics Panel